Canadian Honker Restaurant
Breakfast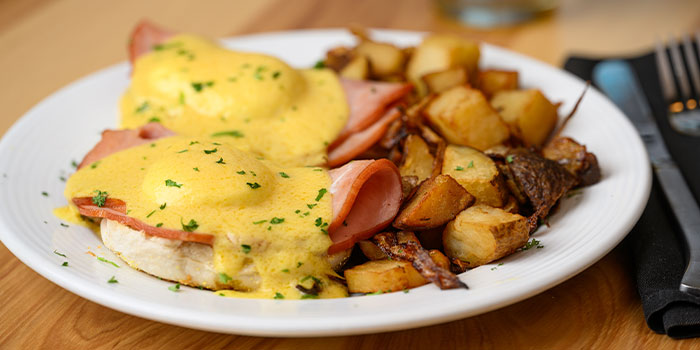 Award Winning Eggs Benedict
Served on an English muffin or croissant and topped with two poached eggs and homemade hollandaise. Accompanied by hash browns or American fries.
Traditional with honey baked ham. $13.00
Fresh Salmon $15.00
---
The Feast
Two eggs, choice of hash browns or American fries, bacon or sausage and toast. $9.00
---
The Lumberjack
Two eggs, two homemade buttermilk pancakes or French toast, bacon or sausage, and hash browns or American fries. $14.00
---
All American Skillet
Diced country fried steak, scramble eggs, cheddar and mozzarella cheese, and sausage gravy atop of hash browns, served with toast. $13.00
---
Country Fried Steak 'N Eggs
A golden brown fried steak topped with house sausage gravy, served with two eggs, hash browns or American fries, and toast. $15.00
---
Biscuits and Gravy
Two freshly baked biscuits topped with homemade sausage gravy, served with two eggs and hash browns or American fries. $13.00
---
Breakfast Burrito
Scrambled eggs, shredded cheese, sausage, and ham wrapped in a flour tortilla. Topped with pico de gallo. Hash browns or American fries included. $14.00
---
Chipotle Ciabatta
Scrambled eggs, Applewood smoked bacon, white cheddar cheese, sliced ham, and chipotle mayo served on grilled ciabatta bread. Hash browns or American fries included. $13.00
---
Harvest Oatmeal
Infused with dried cranberries, bananas, candied walnuts, and a touch of cream. Served with toast or English muffin. $10.00
---
Honker's Homemade Sweet Roll $5.00
All omelets served with American fries or hash browns and toast.
---
Honker Omelet
Honey baked ham, onions, mushrooms, mozzarella and cheddar. $14.00
---
Prime Rib
Thinly sliced prime rib, red peppers, sauteed onions, Swiss cheese, topped with chipotle Aioli. $15.00
---
Meat Lovers
Sausage, bacon, honey baked ham, mozzarella and cheddar. $14.00
---
Feta Florentine
Fresh spinach, tomatoes, red onions, scallions, and feta cheese topped with homemade hollandaise. $12.00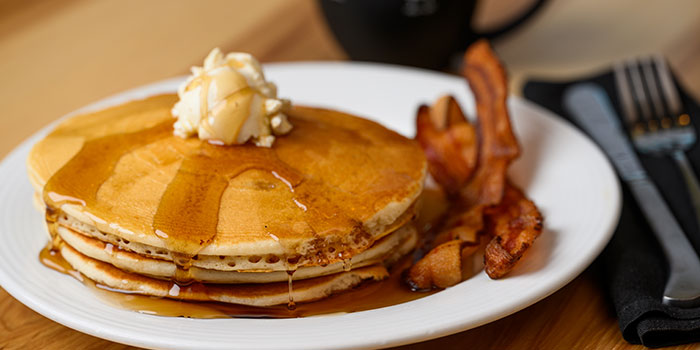 Pancakes
Three buttermilk pancakes served with bacon or sausage. $11.00
Add Bananas or Triple berry sauce $2.00
---
Stuffed French Toast
Sweet cream cheese served with your choice of Banana nut or Triple Berry sauce . Served with choice of bacon or sausage. $13.00
Torke Espresso!
---
Turtle Latte
---
Mocha Joy
---
Mounds Latte
---
Mocha
---
Cappuccino
---
Latte
---
Americano
---
Double Espresso
---
Hot Chocolate
---
Oregon Chai Tea
---
Other flavors and seasonal specialties available.
Coffee
Hot Tea
Fresh Squeezed Orange Juice
Milk
2%, Chocolate
Juice
Orange, Apple, Cranberry, Grapefruit, Tomato
Served 7:00am - 11:00am • Add a kids beverage for $1.50.
---
Kids Feast
Served with one egg, hash browns, bacon or sausage, and toast. $7.00
---
Pancake
Served with one kid's pancake and choice of bacon or sausage. $6.00
---
French Toast
Served with one slice of French toast and choice of bacon or sausage. $6.00
---
Ham and Cheese Omelet
Served with hash browns and toast. $9.00